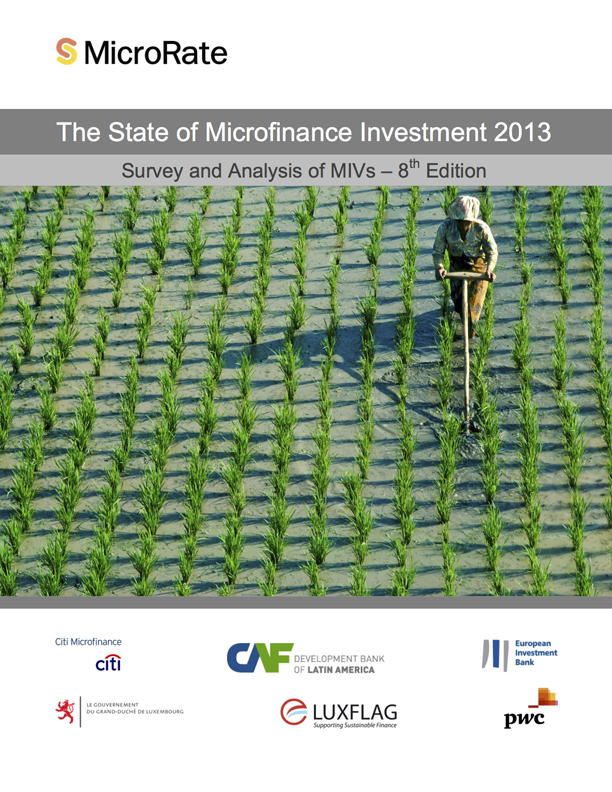 Microrate's "The State of Microfinance Investments 2013″ is out. This 8th annual survey covers 92 active microfinance investment vehicles representing $8.1bn in assets under management. Key findings:
- total asset growth +17%, microfinance portfolio +18%.
-Liquidity declined to 8.2% of total assets, down from a high of 14.6% in 2009.
-Growth in all regions, with Latin America (24%) and East Asia/Pacific (23%) posting the strongest growth, and moderate growth in South Asia (12%), Africa (12%), and Europe/Central Asia (10%).
-Azerbaijan (45%), Georgia (78%), Mongolia (38%), and Bosnia (43%) were among the fastest-growing countries.
-Funds continue to mature, with investors redeeming $438 million in 2012.
-MIV sector continuing to deconsolidate, with largest MIVs continuing to lose market share. Similar trend among fund managers.
-Equity investment grew by $77 million, but declined as a share of the portfolio from 20% to 18%.
-Institutional investors continue to dominate, with 56% share of total investment.
(source Microrate)