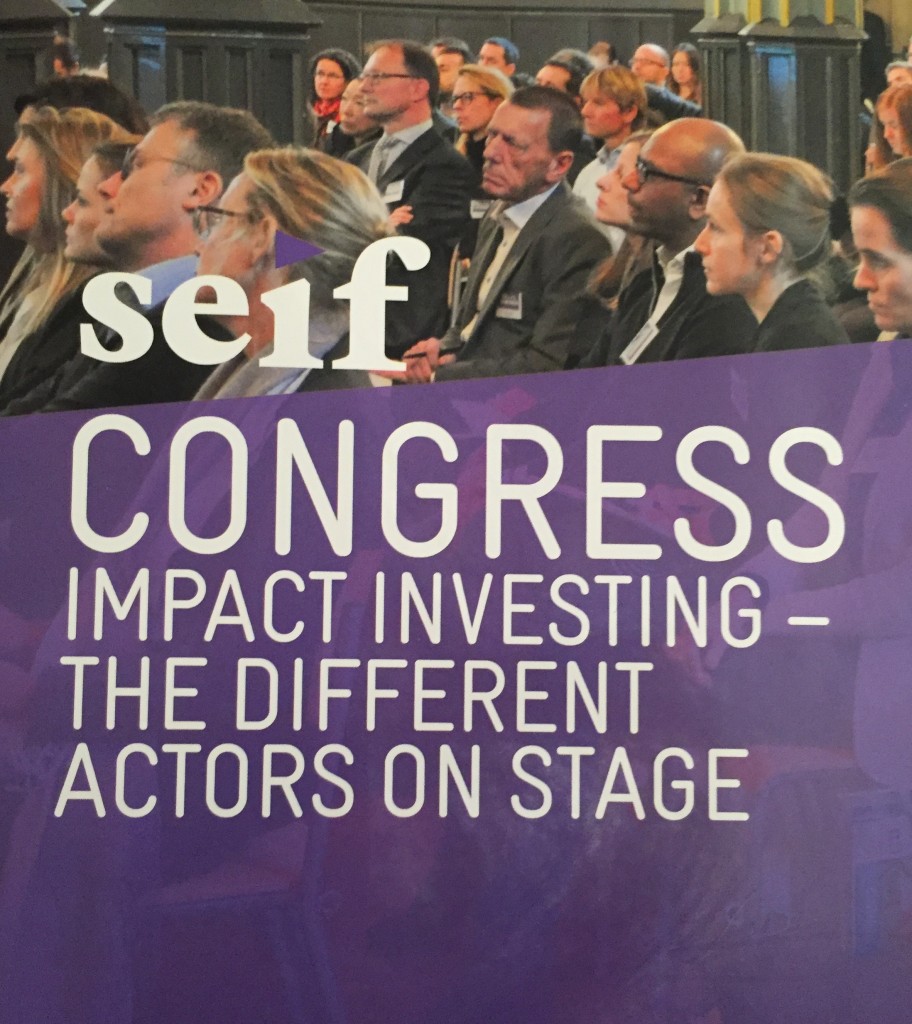 The 2nd Impact Investing Congress organized by seif took place in Zurich on Jan 24th.
Some takeaways and highlights
-The space continues to grow rapidly and somewhat chaotically as new players from all segments with different aspirations and products enter and push for mainstreaming impact investment. Growth is great and as a result you can't avoid some growing pains. Some big banks such as BBVA and Barclays are becoming more active in this field.
-Rod Schwarz, CEO of ClearlySo introduced the recently launched ClearlySo Atlas, an impact assessment solution for private equity investors and venture capital investors. Atlas asseses the impact of portfolio holdings enabling investors to map, track and report on their impact and sustainability. What is great about this tool is that it targets the mainstream investments managers/portfolios (not only the impact investments) to improve on its impact. This goes along with Rod's and ClearlySo's belief that we are moving from the two dimensional investment criteria (return vs risk) towards a three dimensional one adding impact as a feature to all investments.
-Antoni Ballabriga , Global Head of Responsible Business at BBVA made an impressive presentation on how this large bank has recently gone through a transformation involving 28,000 of their employees around the globe to (re)define their purpose. The bank's purpose is now "To bring the age of opportunity to everyone" and thus their new tagline is "Creating Opportunities". With the WHY being cleared, the WHAT and HOW follows. These opportunities will be offered through: financial products that meet individual customer needs; financial education programs; transparent, clear and responsible communication; commitment with the environment; support to entrepreneurship; and promotion of culture and science, among other initiatives in favor of society. Let's see how the initiatives of another large financial player reshape the universe – for the time being let's give them the benefit of doubt.
-Phyllis Costanza, CEO of UBS Optimus Foundation updated us on the positive results so far of their first Development Impact Bond, an innovative instrument which brings in new money and cross sector partnerships for development. They are working on a new DIB and hopefully many other DIBs would be launched by other institutions in the future.
-The closing was a very interesting panel that debated on the now and future of impact investments in Switzerland which gave us much hope but equally cautions as the industry grows and mainstreams with differing views on the extent of the impact (improving some things vs solving the real problems) that the organizations would like to create.
Thanks seif for organizing this productive Congress.